The 2019 NBA Free Agent Class is One of Epic Proportions
Ever since I could form memories, the National Basketball Association has been a huge part of my life. While these 2019 NBA Playoffs are in full motion, I can't help but to look ahead. The summer of 2019 promises a free agent class the likes of which we have rarely seen before. 2010 was pretty crazy too. A turn of the decade marks a potential changing of the guard (no pun intended). Come next season the NBA will likely look entirely different, considering it is a star-driven league. LeBron James made free agency interesting again prior to signing with the Miami Heat. The process of recruitment has to be fun for most All-Star-level talent. When July 1st hits, superstars like Kevin Durant, Kyrie Irving, and Kawhi Leonard will be available as long as they waive their player options — which, of course, they will.
It's their time to get the big bucks. Durant has been sacrificing checks for titles since joining the Golden State Warriors. And Kyrie is likely looking to secure a max contract in case his knees give out in three years. I have my theories and predictions for where certain players will land and why. Below I will let you in on where I think some of this summer's marquee players should choose to sign with. Despite my reasons, these players will go wherever they believe best suits their interests. But I find great joy in trying to put the right pieces together based on what I've seen from a particular player in the past. Basketball is in my blood, and it's safe to say I'm obsessed with it. However, I will do my best not to include bias (Go Lakers… smh) in my analyses. Hope you enjoy these loose thoughts.
DeAndre Jordan – 30 yrs old – UFA
This screen-and-roll Center is losing his place in today's NBA. Although he gained moderate fame as one-third of the Clippers' "Lob City" trio, Jordan can't shoot. Following his trade to the New York Knicks from Dallas, DeAndre lost his relevance. The Knicks tanked tremendously, leaving a quality starting big man out to dry. Many, including me, thought DJ would demand a buyout to get some good minutes for a playoff team. Alas, it never happened. Jordan has averaged at least 13 rebounds per game and a double-double for six straight seasons. You'd think a title-contending team would want someone of his skill set. However, his reluctance to test the buyout market is why I believe he will stay put. DeAndre matured under a big-market umbrella in Los Angeles. He likes the bright lights and big stage.
The New York Knicks have enough cap space this summer to sign two max-contract stars. One of those slots will not be for DeAndre Jordan. He damn-near stole $23 million from Dallas and New York this season. Yet as a 12-year vet next year, I see him taking a huge pay cut to team up with his friend Kevin Durant. They played on the 2016 Olympic team together where they won the gold. With KD primed to lace 'em up for the MSG crowd next season, it would behoove Jordan to remain in the Mecca. The Eastern Conference plays at a slower pace than the West, which benefits him greatly. His earnings eclipse 130 million dollars during his career. Now it's time to see if he has what it takes to contribute to a team with serious championship aspirations.
J.J. Redick – 35* yrs old – UFA
As an unrestricted free agent, sharpshooter J.J. Redick has plenty of options. However, I do believe his decision heavily depends on how the Sixers finish their season. There hasn't been one season in his 13-year career in which he did not make the playoffs. So, it's a safe bet that postseason action is important to Redick. At 34 years of age his days as a consistent starting guard are coming to a close. Despite his defensive deficiencies, Redick is one of the best 3-point shooters of all-time, leading the league in 3P% for the Clippers back in 2016. He averaged more points per game this season (18.1) than any of his previous years. Whoever J.J.'s agent is will be squeezing every penny out of that stat. Trust me. While we wait and see what becomes of Philadelphia, my wish is for Redick to sign with the Oklahoma City Thunder.
I mean, have you seen their roster? It's packed full of brickers. Outside of Paul George, they have absolutely no shooting. As much as I hound Westbrook for his excessive celebrations and putrid on-ball defense, his front office failed him. Russ has all the talent in the world on an individual scale. Yet his teammates always feel lackluster excluding his opposite star. Steven Adams is dope. But his lack of shot-blocking and free throw efficiency limit his overall impact late in games. If OKC falls to Portland in round one, they will have to revamp their roster. Although J.J. Redick will likely come at a high price, his all-time shooting will be worth it. He will also help Russell's assist numbers. And we all know how important those stats are to Mr. Triple-Double.
* – Will turn 35 on June 24th
Kawhi Leonard – 28* yrs old – Player Option ($21.3M)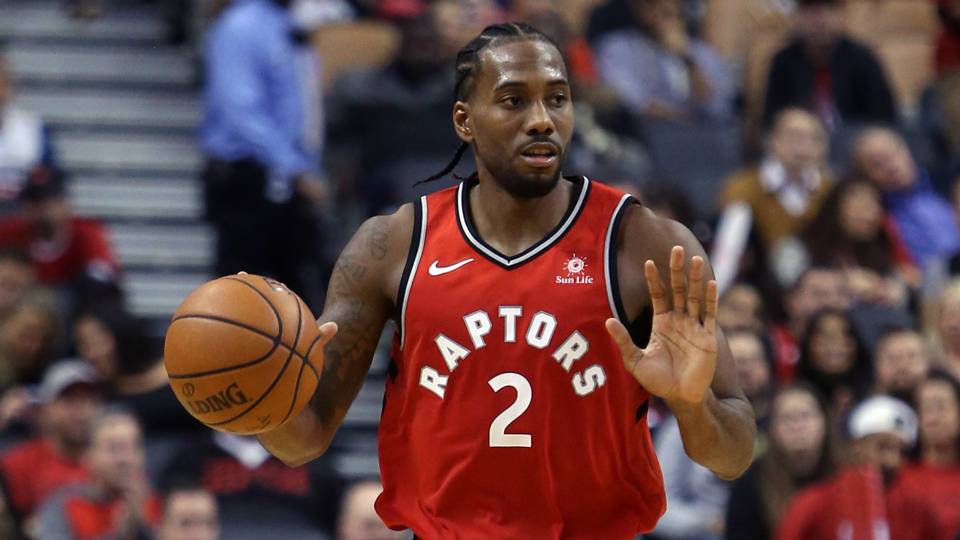 21 million sounds real nice right about now. But why opt-in when you can make upwards of $40M per season? Two-way superstar Kawhi Leonard is a man of few words. He is essentially a basketball-playing cyborg who just wants to be left alone. In spite of his tumultuous departure from San Antonio last summer, Kawhi remains silent on his whereabouts this summer. If you tune to any sports talk show, they will tell you that Leonard will sign with either the Toronto Raptors or the Los Angeles Clippers. The latter is my choice. Not because that's where everyone is saying he will go, but simply because it's the only place that makes sense to me. Kawhi grew up in San Diego, California. He expressed his interest in being traded to LA from the Spurs.
Coach Gregg Popovich had other plans nonetheless. Never, as both the head coach and president of basketball operations, would he ever deal his star player to a rival franchise in the Lakers. The Clippers, on the other hand, didn't have the pieces to trade for Kawhi at the time. He instead traded him to Toronto, where one of his coaching disciples Nick Nurse had just become the new head coach. During the season Kawhi always looked non-committal any time I watched him. He missed 22 games this year mostly due to "load management." This is a new excuse teams are using to rest players for the postseason. To me, Leonard never looked happy or even comfortable in a Raptors jersey. I believe he will sign with the Clippers this offseason because it will be his first opportunity to choose his own destiny.
Throughout his seven-year career Kawhi Leonard has always had an asterisk by his name. Before the draft, few recruiters thought he would be a difference-maker at the professional level. Popovich took a chance on him, trading his favorite player he ever coached, George Hill, for Leonard in the 2011 draft. The man cried when he traded Hill away. I have a feeling that made Kawhi feel pretty damn good for arguably the greatest coach in NBA history to trade his favorite player for a kid no one believed in. He played hard for Pop for half a decade. Then he shipped him off to chilly, choke-tastic Toronto. There is no way he stays in my eyes. Doc Rivers has the Clippers playing out of their minds as of late. And if I'm Kawhi, I want a piece of that pie. They need each other.
Leonard sat over 20 games this year, which I suspect as him resting himself for a 2020 MVP season. California sunshine, a championship caliber coach, and a chance to be "The Guy" trumps Kyle Lowry, Pascal Siakam, and a promising coach in Nick Nurse. Kawhi has the opportunity to make waves on his own terms. Location, front office, and player personality are underrated free agency factors. Well, maybe not location, but Kawhi definitely misses the warm weather. Especially now that he endured a Canadian winter. To me, this decision is clear. Unless the Lakers make the pitch of a lifetime, Leonard will most likely head a new era of Clippers basketball. No more product-of-a-system talk; no more injury drama. This summer is Kawhi's time to shine as an individual. Perhaps the tides have turned in LA. We shall see. . .
* – Will turn 28 on June 29th
Jimmy Butler – 29 yrs old – Player Option ($19.8M)
Jimmy Butler is an enigma. When he's not dropping 20 points, you can catch him disrupting team chemistry on the reg. Honestly, it seems as though Jimmy Buckets continuously finds himself on immature rosters. His tenure with the Sixers, although brief, has been fairly successful. He became their clutch scorer for most of the 2019 season. One thing is for sure: Jimmy ain't scared. General Managers most likely are however. At 29 years of age, Butler looks to be at the tail end of his prime. Despite having a player option in his contract, Jimmy will likely forego it to sign a max deal with whoever will pay him. The Philadelphia 76ers are stacked with young talent, including Embiid, Simmons, and fellow free agent Tobias Harris. As a proven shooter, I expect Harris to receive a generous (but not quite max) offer. For Jimmy, though, I'm not so sure.
On one hand, Butler functions as an eye-catching All-Star starter. On the other, his locker room issues in the past, as well as his age, make him a risky sign. If he's smart he'll wait until a big-name free agent signs somewhere. That way he can map out which roster his skills match with the most. To me, Jimmy has always loved attention. And he rose to fame for the big-market Chicago Bulls. The New York Knicks and either Los Angeles team sound like a good fit. Nevertheless, I doubt LeBron or KD want to play with Jimmy. They play similar positions and Butler is mostly a midrange jumpshooter. At first I wanted him to take a leap of faith and sign with the Atlanta Hawks. Trae Young loves to pass, and John Collins is solid. There he could put up as many shots as humanly possible.
Even though Atlanta is a young, struggling team, the city itself is desperate for a veteran star. It's a medial market full of sports fans. But when I really thought hard about it, there is no way Butler would sign with another immature squad. That's why my wish is for him to sign a max contract with the Indiana Pacers. They will have enough cap space to sign him to a four-year max deal. Also, they just made the playoffs in spite of losing All-Star guard Victor Oladipo. The Pacers will fall to the Boston Celtics in either four or five games. Yet adding a tough two-way star would certainly boost their chances of making legitimate noise next postseason. Jimmy doesn't have time to build with a young core. Coach Nate McMillan, Oladipo, and loads of cash are a tantalizing situation in my book.
Kemba Walker – 29* yrs old – UFA
Kemba is my boy! I've been watching his games since he was in high school. He was the Final Four's Most Outstanding Player back in 2011 on his way to an NCAA title. Three years in college molded Walker into the dynamic offensive player he is today. Unfortunately, though, his NBA career has been less than favorable. Drafted by the horrendous Charlotte Bobcats, Kemba experienced the worst season in NBA history. During the 2012 lockout season, the Bobcats won single-digit games, giving them the lowest win percentage of all-time. Needless to say it's been a rough road for him. After returning the team brand to the Hornets, Kemba led his crew to two playoff appearances. Following quick first-round exits expect Kemba to walk away from Michael Jordan's franchise. Walker has been a winner at every level except professionally. High school, AAU, and college treated him well.
So, now it's time for Kemba to forge his own path. He's been getting buckets by his lonesome for far too long. This summer is his moment to flip the script. Chalk this up as bias if you'd like, but my wish is for Kemba to sign with the Los Angeles Lakers. LeBron James is no stranger to deferring to other scorers. Walker is in peak form, looking to make waves on a global scale. He has a giant chip on his shoulder, and he's an efficient catch-and-shoot player. Additionally, he has the clutch gene. Bron needs a guy like Kemba, instead of another superstar, to establish a worker's mentality in LA. He knows what it takes to carry a squad and is good with the media. LeBron would remain the big fish, but Kemba would not go unnoticed. Despite his small stature, his heart is what the Lakers need.
* – Will turn 29 on May 8th
Klay Thompson – 29 yrs old – UFA
Man, I can't stand this dude. Yet, if I'm being honest, Klay Thompson is the ideal shooting guard. He's 6-foot-7, a 3-point sniper, and an above-average defender. Yes, I think people overrate his nightly defensive effort. In spite of that debate Klay is a fascinating free agent candidate. During his career, he has always played second or third fiddle. There is a huge question mark surrounding his individual capabilities outside of a star-studded team setting. He has all the tools to be one of the best players to ever do it at his position. However, we have yet to see any proof whether he can handle significant pressure as a first option. My guess is that no matter what happens Klay will never be a first-option scorer. Not because he can't do it, but because he's tasted success so early in his career.
Who cares if Klay drops 29 points per game for Detroit? He most likely wants to keep winning, which is always the smart option. So, why not get paid max dollars while you do it? My wish is for the Warriors to split up, like many haters out there. Steph, Draymond, and Boogie have ties to the franchise for separate reasons. Klay, however, could spread his wings elsewhere and not receive too much flak for it. He's been underpaid for the last couple seasons, and I'd like to see him cake up… for the Los Angeles Clippers. His dad was a Laker, but the Clippers would embrace him just the same. Pairing him with Kawhi would serve as an elite swingman combo for years to come. Beverley, Klay, and Kawhi Leonard? That's some next-level defense right there. Sign me up for the Clippers hype train if this wish comes true.
Trevor Ariza – 34* yrs old – UFA
Trevor Ariza is the most important role player in 2019's free agent class. Since winning a title with the Lakers back in 2009, Ariza has followed the money. Having a ring gives a player the freedom to pursue lucrative contracts until their talent diminishes. I'm a Trevor Ariza supporter without a doubt. His recent love affair with the big bucks concerns me nonetheless. He doesn't deserve blame for chasing greenbacks. Athletes only have so much time before they have to hang it up. But a man of Ariza's defensive skill and savvy deserves to play for a contender and win another title. It's what the game is all about, after all. This summer I hope all the losing he's been doing with Phoenix and Washington opened his eyes. It's time, Trevor. Help a team over the hump for the right price. From past examples, he'll likely want to start.
Also, he's going to want at least 12 million. This season he made 15 M's, which was the highest of his career by far. With a lot of anticipation and potential star power, I could see Trevor returning to the team that drafted him. That is, the New York Knicks. They've got enough cap space (~$74.5M) for two max contracts and then some. A starting lineup of: DeAndre Jordan (for cheap); Zion Williamson; Kevin Durant; Trevor Ariza and Kyrie Irving would surely change the culture in NYC. DJ would have to take a humongous, humbling pay cut for this to happen. And counting on Ariza to pass up the 15-18 million some bum squad will offer him is a dangerous bet. However, role players tend to wise up when super teams begin to brew.
* – Will turn 34 on June 30th
Kevin Durant – 30 yrs old – Player Option ($31.5M)
Okay, Kevin. Hear me out. I know you want to go to New York. Quite frankly, I'm not mad at that decision. The Eastern Conference is the more attractive one for the best overall talent in the league. However, what have the Knicks done to deserve you? Lemme answer that for you, bro –> Nothing. Even though they will probably land the number-one pick in this year's draft. And despite them having the most cap space of any team in the league, they don't deserve the best player in the league. As much as I love LeBron James, he had a shit season. So, I have to elevate Durant. His offensive weaponry is unlike any I've ever seen. He is also a capable help defender. We may never see a 7-foot shooting guard ever again. That is why where KD lands this offseason is so important.
He literally changes the entire landscape of the league. If I had it my way, I'd let the Knicks have Zion Williamson all to themselves. Let him grow, mature, and naturally become the next face of the NBA in the Mecca of Basketball. You don't need him hogging any of your shine, bro. He's going to have the endorsements and the cool Nike commercials. Let's see if he can handle all that pressure. Meanwhile, Kevin, you could be two steps ahead of the Knicks on your way back to the NBA Finals by… signing with the Brooklyn Nets. No, the Nets don't have a coach with a ring. And no, they don't play in Madison Square Garden. However, who fucking cares? Brooklyn has a win-now roster with a coach in Kenny Atkinson who simply gets it. No disrespect to David Fizdale, because I like him a lot.
But if KD goes to the Knicks, he will have to build them from the ground up. Who has time for all that? Signing with the Nets means you're still in New York City. All the branding opportunities will still be there. Not only that, once they re-sign All-Star point guard D'Angelo Russell, there will be another young unselfish star there to help carry the load. Playing with Kyrie Irving sounds amazing, don't get me wrong. Nevertheless, he is not a pass-first point guard. It works for him and he is absolutely spectacular. But we've already seen what happens when Durant pairs up with a shoot-first guard. It just doesn't work as well as we all think it should. D'Angelo is a leader, a supportive teammate, and seems to have an infectious personality. Kevin, alongside D-Lo, you wouldn't need to always be the one taking heat from the media.
While Russell is out there saucing in the pick-and-roll, you can sit back, relax, and enjoy open jumpers. He's basically Steph Curry without all the antics and full-court heaves. Sure, he's nowhere near as good as Curry. Yet he fits the mold of the type of player Durant wins with. He wants to give you the ball, Kevin! You will receive all the glory if you bring home a title to a famished franchise. And if you fail, you'll have a guy next to you that will deflect some of the haters. The Nets roster is much deeper, and the fans are hungry instead of anxious. Break the simulation. Shock the world. Take your talents to Brooklyn, New York, where they will love you no matter what happens during your max contract years. This is the one wish I want more than any other signing. Do the right thing, KD.
Kyrie Irving – 27 yrs old – Player Option ($21.3M)
This superstar showman has the whole world in his hands. Kyrie Irving is the linchpin of the 2019 NBA free agency. Wherever he goes, others will follow. Additionally, his final destination determines the placement of other big names such as Kevin Durant, Anthony Davis, and Kemba Walker. If he elects to join KD on the Knicks, it will be the most anticipated NBA season in years. However, like I stated above, I feel like that pairing is better on paper than in reality. The move to the Knicks makes sense for Irving. He loves to put on dazzling displays of dribble moves and are-you-kidding-me shot selection. Essentially, he was born to electrify the MSG crowd. But again, what have the Knicks done this century to prove they will handle superstars in the proper fashion? I don't know about y'all, but I need proof. Kyrie is too special to waste.
Furthermore, Kyrie needs a full roster of smart and self-aware players to succeed. He can't do it on his own despite his efforts – no one can. Looking back at his career thus far, Kyrie has suffered a multitude of injuries. His knees are a ticking time bomb. But that's not to say you don't go all-in on him if you're a GM. I know I would. Kyrie has to know that if he doesn't sign somewhere long-term, then he could very well miss out on a max deal if his knee malfunctions. Although he and his teammates have had their ups and downs, my wish is for Kyrie to sign the super-max and continue to play for the Boston Celtics. One thing Boston has that no other team in the league does is Danny Ainge. The dude gets deals done no matter the cost. Need a superstar? No problem.
Boston's gumbo of draft picks aren't as seductive as many think they are. Nevertheless, a package of two picks, Al Horford, and Jayson Tatum is enough to snag Anthony Davis from the Pelicans. Davis is leaving the bayou regardless. Yet if Ainge can assure to Kyrie that he can trade for Davis this summer, then that could be the perfect bait for Irving to sign the super-max. Of course, AD said he wants to play in Los Angeles. So, I can see why people would disregard my theory here. But winning cures all. And if AD and Kyrie make it to the Finals, Davis could exchange his fantasy for tangible success. Dude has lost so much during his career, being in Boston would be a breath of fresh air. Think I'm crazy? You wouldn't be the first. But a LeBron vs. Kyrie 2020 Finals is a narrative for the ages.