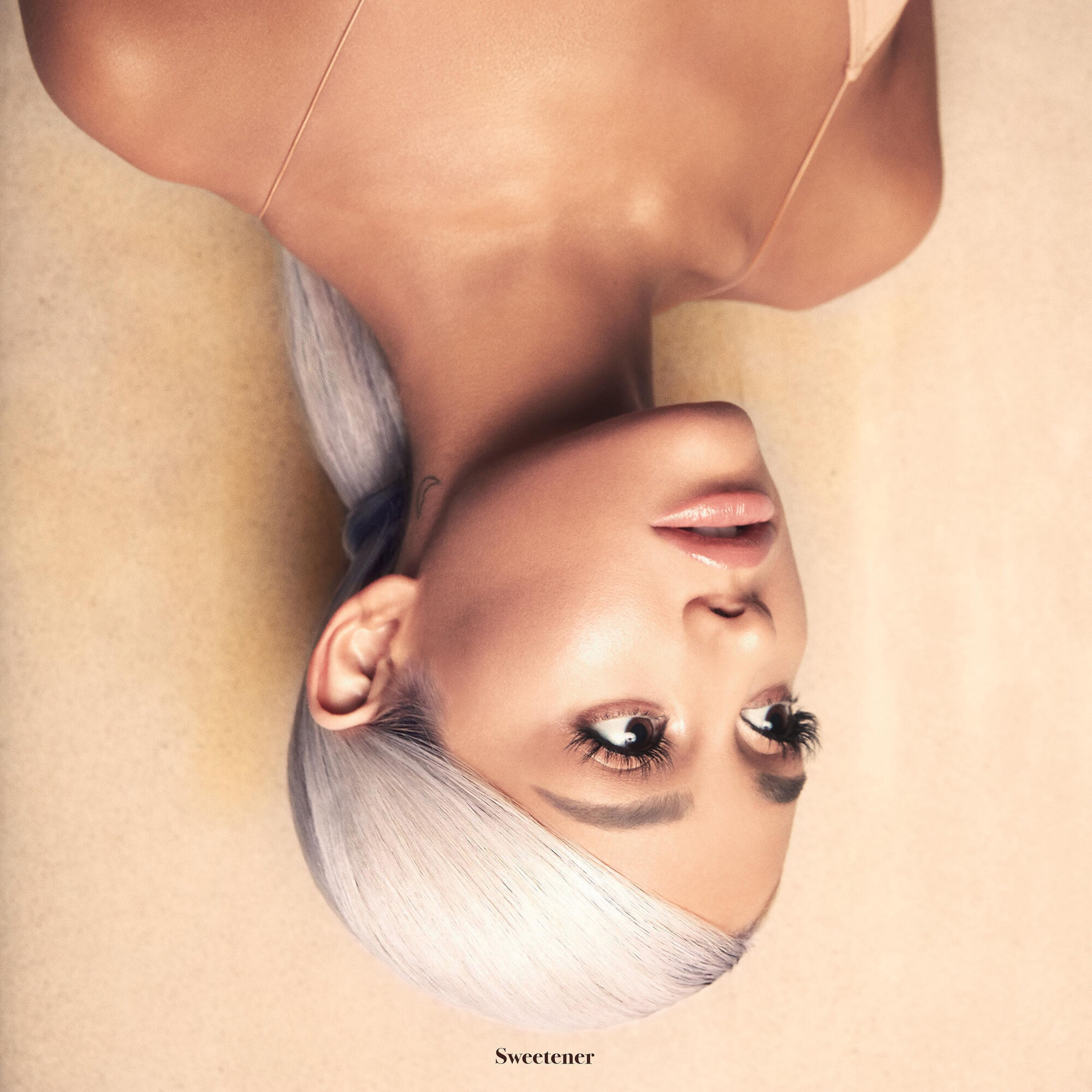 [dropcap size=big]W[/dropcap]hen her debut dropped, I thought the world of Ariana Grande. My hype on her died down following her third album. Even though the title track "Dangerous Woman" blew me away, the rest of the album disappointed. The album clearly had a focus group behind it. In some ways, that's a good thing. Albums are not a solo endeavor. However, if too many non-creatives steer a project it tends to fall flat. Alas, that is most mainstream pop music today. Artists attempt to people-please rather than push their artistry to the next level. Yet Ariana's latest surprised me. The creme cover above is simple. It isn't trying too hard say anything, but it still makes a statement. Both the single and album artworks signified clear creative direction to me. A colorful aesthetic permeates the art and production of Sweetener. Grande takes a healthy step forward here.
Following three impressive singles, this former Nickelodeon star bounced back from a slightly monotonous stretch. While her previous two albums weren't garbage, they weren't memorable as a whole either. Despite a couple hit songs Grande's albums lacked cohesion and personality. Her voice is sure to grab your attention. Nevertheless her songs leave much to be desired. An aspect her albums need is distinct tune consistency. Obviously she has pipes, but there is much more that goes into creating timeless pop songs. The aforementioned "Dangerous Woman" was Ariana's breakthrough artistic moment to me. On past projects, she gained a lot of buzz by means of collaboration. There is absolutely nothing wrong with that. Solo efforts, however, help shape an artist's legacy into something concrete. Tracks such as "Break Free," "The Way" and "Side to Side" served their purpose.
Yet their staying power proved minimal at best. I still enjoy "Break Free," though. It's just that those heavy synth-dance joints blend together after a while. That has been my primary gripe with Grande's music thus far. As big of a star as she is and continues to be, her songs lose steam quicker than one would think. Pop music shifts at lightning speeds. Eight months later and the sound you've been working towards could run stale in the mainstream. It's not easy remaining relevant in an ever-changing landscape. But that's why I dig this album. Ariana took a leap of faith. The soundscapes found on Sweetener are mostly vibrant. She borrowed the prowess of Pharrell behind the boards, which gives this album a boost of zesty flavor. The features here do more help than harm, though I could've used one more rap verse.
Due to abundant trap snares here, an extra rap feature would've been nice to have. However, there is plenty to love about Sweetener as it is. All three guests exude competence. And, for the most part, Ariana delivers solid solo performances. The album opens with a head-scratcher, though. "raindrops (an angel cried)" feels out of place. At 37 seconds it doesn't accomplish much in the tracklist. Also, it fails to set the tone of the album. This offering reaches for the stars with both feet still on the ground. Tracks like "the light is coming" and "God is a woman" push the envelope of modern pop music. Pharrell, Max Martin and Ilya's production gives Grande's dynamic voice a liberating backdrop. No longer do her powerhouse vocals have to carry the entirety of a song. At times, this new direction yields fantastic results. "blazed," "everytime" and "breathin" are excellent album cuts.
I appreciate the creative ambition presented here. It is a breath of fresh air in her discography. She addresses some of the difficulties she endured during her last relationship while looking ahead to better times as well. Cohesion hits highs and lows throughout the tracklist. More than half of the songs here held my interest across multiple listens. Lulls certainly arise, though. A shaky end to the album leaves Sweetener in limbo. Juvenile lyricism and forgettable tunes hold this album back. With a more focused pen, Grande and Company could've separated from the pack entirely. Despite its occasional alien sound, Sweetener still clings to a brand-over-substance formula at times. The tracks that I love here are some of my favorite in the vocalist's catalog. Nevertheless, following a handful of listens, they lose steam like her previous work. Yet I remain impressed, and understand I am not the target audience.
Mainstream pop artists hardly stray from the mold. Since her debut, Grande showed legitimate star potential. Prior to this album's release Ariana's manager Scooter Braun stated: "It's the time for her to sing the songs that define her… Ariana has big vocal moments; it's time for her song." Although the tracklist needs reshaping, I agree with Scooter. Ariana Grande has had amazing vocal moments. You'll find her singing on Jimmy Fallon, SNL and Carpool Karaoke videos on a screen near you. She is brimming with talent. I do agree it was her time to shine in a relatively weak year for mainstream albums. "no tears left to cry" and "the light is coming" are killer singles. "God is a woman" is the most polished song of the bunch, though I hear a chart-topping future for "breathin." As a whole, this album would benefit from being more short than sweet.
Stylistic Variation
Artistic Progression
Some Sticky Songwriting
Some Production Overlaps
Some Passive Deliveries
Moderate Replay Value